Hi, I'm Axi!
You're probably here bacause you've wanted to look at my commission price list or terms of service, if that is so, please use the buttons above <3
If you have any more questions the best way to contact me is through Discord @kristja#3503 or Twitter, linked below!
(The last link is my YCH.art)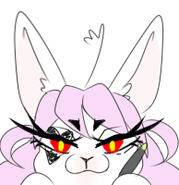 Line

Portrait $50
Waist-up $70
Full height $100
Shading

Portrait $70
Waist-up $100
Full height $130
Additional charges
I can take an additional payment for any major changes after the sketch is approved.
Every additional character is full price.

Complex patterns, complex clothes, extra limbs etc. start from $ 10
| Backgrounds | |
| --- | --- |
| Solid, gradient, bed outlines etc | Room, scenery |
| Free | from $ 10 |
Overall
Payment through Boosty
For commissions under $150 I'll start drawing after full payment.
For commissions over $150 the payment can be divided in two parts to be paid within' ~1.5 week of each other and I'll send you low quality sketches with my watermarks in the waiting time.
Payments for YCHs must be made within 48 hours.
The work will be ready in 7-30 working days after payment.
By commissioning you've read and agreed to the terms of service provided and confirm that you're 18 years old or over.
Terms of Service
I reserve the right to refuse a commission for any reason without stating it.
I reserve the right to post your commissioned artwork anywhere.
The client must come with a clear idea of the commission (references are more than welcome) or leave everything to me.
The client needs to have a clean digital reference of the character.
The client may not use the product for commercial use outside a contractual agreement.
The client may not reproduce the commission for profit.
The client may not modify the product for the intent of removing the artist's signature.
Violators of the terms of service will be blacklisted from commissioning the artist.
Cancellation and refunds
Cancellation is available only before the payment.
I do not offer refunds, please commission only if you can afford it.
Will not draw
Underage characters in nsfw or any kinky setting
Scat and watersports
Noncon/rape
Bestiality
Baby fur
This list may be adjusted in the future. Feel free to ask about your fetish if you're not sure, I don't know them all :'3